Democracy continues to lose ground
Problems in states across southern and eastern Africa have been mounting for more than a decade, and the COVID­19 pandemic has only made matters worse. The fragility of economies dependent on commodity exports and the informal sector has been brutally exposed, and the political climate is increasingly characterized by polarization, illiberalism and growing intrastate conflict intensity. There is no longer a single democracy in eastern Africa.
For some time now, the region has been beset by a growing illiberalism and a downward economic trend. The trend in terms of political transformation has been persistently negative since 2008, economic development has not improved since 2006, and there have been signs of deterioration in governance since 2010. In this year's BTI, new lows are being recorded in all three dimensions of the survey.
Political developments in eastern Africa starkly illustrate these trends. Tanzania, which suffered severe regression under the late President John Magufuli, is now being categorized as an autocracy just like the former democracies of Madagascar and Zambia. Hopes for a new beginning in Ethiopia have also been dashed. For the first time since the BTI survey began, there is no longer a single democracy in eastern Africa. Significant declines can also be seen in southern Africa. The average score for political transformation in southern and eastern Africa, which fell from 5.98 points in the BTI 2008 to its current 4.79 points, marks a significant erosion of political participation rights and the rule of law throughout the region.
At this time, there is also little cause for hope when it comes to economic transformation. Botswana and Zambia, which rely heavily on just a few export goods, have recorded the sharpest declines. But the coronavirus pandemic has also exacerbated structural problems elsewhere, as there is a lack of both growth drivers and social safety nets throughout the region.
There was also only a slight but nevertheless significant decline in the quality of governance. While the vast majority of countries in the region have shown little change in terms of consensus­building, intrastate conflict is intensifying and the ability or will to steer reform processes and implement policy priorities is eroding.
Political transformation
Turning away from the democratic rules of the game
We see similar patterns in terms of democratic backsliding across the region, most vividly in the gradual erosion of democratic institutions and blatant electoral fraud. For example, while the elections in Burundi and Mozambique were marked by irregularities and manipulation, those in Tanzania and Uganda also entailed police violence against opposition candidates, bans on assembly, and the falsification of voter registration applications and ballots. In Uganda, where President Yoweri Museveni secured his sixth term in January 2021, access to the internet and social media was blocked during the election. In Tanzania, President Magufuli banned all political gatherings as early as 2016 and extended the ban through the next presidential election, arguing that it was time for society to focus less on politics and more on developing the country. He and his party clearly won elections held in the fall of 2020 in the midst of the pandemic. The political regression in the country was accompanied by successive efforts to undermine the separation of powers. For example, Magufuli and other representatives of the executive increasingly governed by decree, thereby deliberately bypassing the formal legislative procedures in place. What's more, in 2020, the government effectively seized control of the bar association. A similar personalization of power can be observed in Madagascar. A law passed there in 2019 gave the president the power to rule by decree. Although the law has since been repealed, this government practice remains in place.
In Zambia, the erosion of the judiciary's independence is a cause for particular concern. The members of the commission that appoints the country's judges have been selected by the executive for several years. Given the executive's influence, courts only rarely take action against any representative of the executive branch – so it should come as no surprise that the judiciary's public image has been severely damaged. Tanzania is once again a particularly egregious example of the threats posed by government action to the freedom of expression and the use of public space – although it is admittedly only one of the many countries where governments have used the pandemic as a pretext for reining in media critical of the regime and arresting opposition figures.
A decline in the quality of democracy can also be observed in the democracies of southern Africa, yet there are more bright spots here. Elections in Malawi, Mauritius and Namibia were relatively free and fair, and approval of democratic norms and processes has remained more or less unchanged in democratically governed countries. Popular support for democracy is particularly high in Mauritius and Botswana, and approval of this form of government also remains high in Namibia. In some cases, there is a discrepancy between these positive scores and popular satisfaction with the current performance of democratic institutions and elected political leaders. Popular assessments of the latter are more critical. For example, while democracy enjoys strong support as a form of government in Malawi, about two-thirds of the population is dissatisfied with the performance of political institutions. However, on the whole, approval of democracy remains stable in these countries. The overall score only deteriorated in Lesotho, by one point.
Economic transformation
The uphill battle for regular markets
Botswana, in particular, suffered severe economic setbacks, as border closures and trade disruptions caused the global diamond market to collapse in 2020, a situation that continued to negatively impact the country in 2021. Angola and Zambia, which are also exporters of raw materials, have also been hard hit by the economic crisis. However, the collapse in commodity prices has been hurting Angola's economy for years, and economic growth has been steadily negative since 2015. In South Africa, the official unemployment rate has risen to 29.2 %, according to the IMF – although this admittedly results not only from the pandemic, but also from a combination of many years of financial mismanagement and corruption, especially under ex­President Jacob Zuma. In contrast, Tanzania was able to make up for downturns in the tourism sector thanks to a rise in the price of gold. According to the World Bank, GDP growth there only fell from around 6 % in 2019 to 2 % in 2020.
In structural terms, the huge informal sector and the inequalities it engenders continue to be the region's major unresolved problems. On top of this, there is population growth. In fact, according to World Bank data from late 2020, southern and eastern Africa are now collectively home to over 528 million people – representing a 77 % increase since 2009. At the same time, the younger generation, in particular, is finding it hard to access the formal labor market. As the informal sector continues to expand, it is hampering economic growth and exacerbating existing inequalities.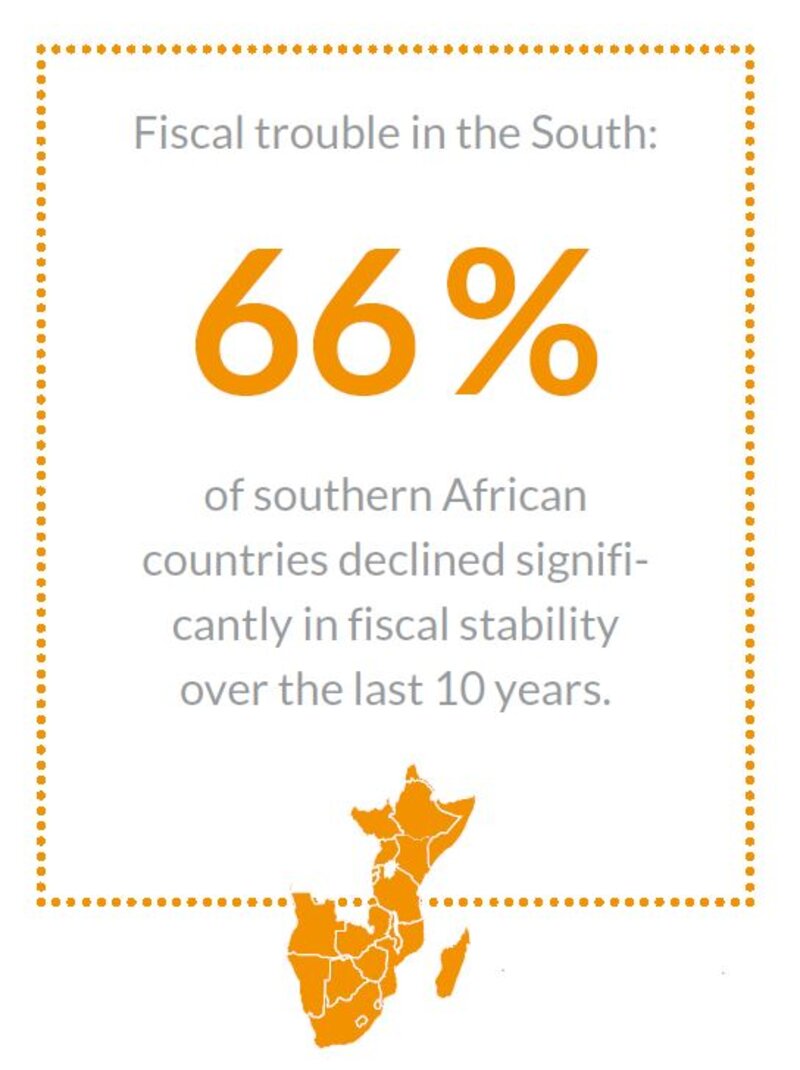 A key factor in overcoming labor market informality will be education – but the track record on this issue is for the most part negative. Take the example of Kenya: During the current survey period, almost 100 % of all children of primary­school age here attended school. However, the high attendance rate is counterbalanced by a decline in the quality of teaching, a lack of materials, and inadequate infrastructure. Insufficient access to schools in rural areas remains an overarching weakness in education in many of the region's countries, which is exacerbated by a shortage of teachers. Access to secondary and tertiary education also remains unequally distributed – both in terms of gender and social background. Southern Africa is among the regions with the world's highest levels of inequality of opportunity. School closures and distance learning during the COVID­19 pandemic now threaten to reverse the few sporadic advancements achieved in the education sector.
The skewing of social and economic conditions in favor of state investment in prestigious large­scale projects has persisted throughout the region for more than a decade. At the same time, the fact that infrastructure projects narrowly focus on roads and transportation is undermining a more holistic approach to development. Meanwhile, the debt burden of almost all countries in the region has reached perilous heights. When discussing all countries of southern and eastern Africa except Tanzania, the IMF speaks of a debt crisis, and it rates the situations in Mozambique, Somalia and Zimbabwe as being especially problematic. Another worrisome factor is the rising inflation rate, which reached a regional average of 14.5 % in 2020.
Governance
From Nobel Prize to civil war
If there was a name connected with hopes for a new political beginning in the region, it was probably that of Abiy Ahmed. In 2018, Abiy was awarded the Nobel Peace Prize for his initiative to resolve the border conflict with Eritrea. In retrospect, one must say that this praise was premature. On balance, the conflict management of the Abiy­led government has been disastrous. It has been using the same methods as its predecessors to suppress undesired segments of the population. A civil war in the Tigray region and renewed ethnic conflicts in the country have triggered the displacement of hundreds of thousands of people.
In absolute figures, Ethiopia has recorded the region's greatest decline in the Governance Index. Four other countries have slipped down a category. In Zimbabwe, intensifying militarization of the state has led to an increased centralization of decision­making power, which has stripped the few reform­minded actors in the ruling party of opportunities to work for political change. Botswana's downgrade resulted in part from its truncated ability to effectively fight corruption. The independence and integrity of the Directorate on Corruption and Economic Crime (DCEC) has also been impaired by the president's repeated interference in its work and by the fact that he has replaced its director general three times since April 2018. The BTI now rates the governance performance of Mozambique and Zambia as "weak." In Zambia, a variety of factors – including diminished resource efficiency, weakened steering capability and increasingly toothless anticorruption policies – are driving this negative trend.
Angola is the only country in the region that has improved its governance. During the survey period, President João Lourenço initiated reform processes to spark renewed interest in the country among donors and in the international community. This has included restructuring the governance of the oil sector.
The three autocracies Djibouti, Rwanda and Tanzania are implementing their strategic priorities quite successfully. Djibouti aims to use reforms to attract foreign investment, especially in infrastructure and the port. Rwanda is continuing to expand its education and health sectors with sizable international support, but reform of the agricultural sector is stalling. Tanzania has managed to improve its infrastructure by, for example, expanding its road network, supplying equipment to schools and hospitals, and boosting the reliability of the power supply.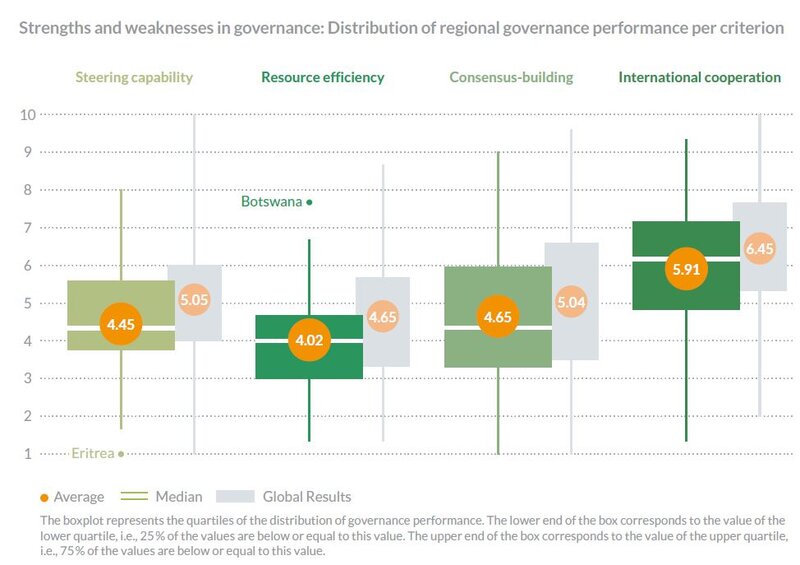 In five of the six remaining democracies, political leaders are succeeding in forging a broad consensus with other societal actors without sacrificing reform goals. Even in Lesotho, whose capacity for consensus­building is less robust, there are cautious signs of positive change. The establishment of a National Reform Authority to oversee the realization of the country's development plan could help improve the implementation of reform projects, which has so far been less than impressive.
In general terms, regional cooperation in southern Africa is still functioning well, even if Mozambique's relations with South Africa and Tanzania have recently become more strained. In contrast, regional cooperation in eastern Africa has been marked by turbulence. Tensions between Uganda and Rwanda escalated in 2019, and trade relations between Uganda and Kenya have also deteriorated.
Outlook
Fragile prospects
Thus, on the whole, we are only left with a few hopeful prospects. In Botswana, President Mokgweetsi Masisi has so far proved to be as polarizing and unwilling to compromise as Ian Khama, who held office from 2008 to 2018. In South Africa, political institutions have so far appeared robust. Many view the July 2021 arrest of Jacob Zuma as evidence that the rule of law is functioning properly. However, the obviously orchestrated looting that came in the immediate wake of the ex­president's arrest shows just how far his influence and that of his allies reaches as well as the extent to which corruption and state capture persists.
Meanwhile, the situation in Kenya remains fragile. The contest to succeed President Uhuru Kenyatta only started after the period assessed by this BTI. But even before then, there were growing signs that Kenyatta would renege on his promise to back Deputy President William Ruto's candidacy to become president. Conversely, the chances for a new beginning under former Vice President and now President Samia Suluhu Hassan are growing in Tanzania. In Zambia, the clear electoral victory of opposition candidate Hakainde Hichilema in August 2021 is emboldening democratic forces in the country to continue opposing autocratization and is a genuine mandate for change.
In the post-coronavirus era, the big and difficult task will be to generate economic growth, boost productivity and significantly expand the formal labor market so as to counter social inequality and the continued expansion of informal employment. More investment in a healthy and well­educated population is needed to provide opportunities to the millions of young people who will be entering the labor market in the years ahead.