Predominantly autocratic
The region of West and Central Africa has seen better years. Four countries have become autocracies, which now make up more than half of the region's 22 countries. This is also reflected in a diminishing quality of governance, especially in Guinea and Mali. In terms of infection numbers, the region has weathered COVID-19 fairly well so far. But the long-term social and economic consequences of the pandemic could be severe.
West and Central Africa is a heterogeneous region. As in the past, Central Africa continues to be characterized by violent conflicts, oil-exporting economies and authoritarian rule. For example, the threat of violence continues to simmer in the eastern region of the Democratic Republic of Congo, and tensions escalated once again in the Central African Republic, culminating in civil war by late 2020. Central Africa's wealth in natural resources makes it easier for some of the continent's longest-serving presidents to consolidate their rule. The unexpected death of Chad's president, Idriss Déby, after 30 years in power, did not lead to any significant change in this regard, as his son was promptly installed as interim president in blatant disregard for the constitution's provisions related to succession.
For a long time, West Africa featured many more bright spots. Benin, for instance, was once seen as an example of how democracy can take root despite adverse conditions. But these achievements have since come under threat from the impact of controversial reforms, particularly in the area of electoral law. This is reflected in a 0.85-point decline in political transformation and the worst score ever recorded by the country in the BTI. The losses are even more pronounced in the case of Mali, which is once again being classified as a moderate autocracy after two recent military coups.
The region weathered the first year of the COVID-19 pandemic better than expected, thanks in part to its experience in dealing with epidemics. Nevertheless, the pandemic has had a profound negative economic impact, and only a few countries have developed more comprehensive social safety nets that could cushion this to a certain extent.
Political transformation
Respect for rules is fading
The negative developments in political transformation are particularly pronounced in the four West African countries that have become moderate autocracies: Côte d'Ivoire, Guinea, Mali and Nigeria. This means that 13 of the region's 22 countries are now autocracies.
This backsliding manifests itself most visibly in the traditional guise of military coups, like the one in Mali in August 2020 that followed months of protests. In addition to corruption and nepotism, Malian President Ibrahim Boubacar Keïta was particularly accused of failing to provide a solution to the country's worsening security crisis. Under pressure from the Economic Community of West African States (ECOWAS), the putschists ceded power to a transitional government tasked with organizing new elections. However, a second coup, in May 2021, removed the transitional government from power.
We also see a decline in the respect shown for democratic institutions and rights. Developments in Benin, where a deterioration in the quality of elections is observed, are just one example of this. In this particular case, President Patrice Talon pushed through a reform of the electoral law ahead of the 2019 general elections. Among the changes was requiring parties and party alliances to meet tough financial conditions in order to appear on the ballot as well as creating a high barrier to securing representation in parliament by introducing a 10 % hurdle. Nearly insurmountable for many parties in Benin's fragmented party landscape, this reform led the opposition to boycott the election. As a result, a pro-Talon parliament was elected that lacked any opposition and thereby failed to serve as an institutional counterweight to the executive branch. Several promising opposition candidates were excluded from the April 2021 presidential election, which delivered Talon his second term, even though he had originally pledged to govern for only one term.
In Nigeria, incumbent Muhammadu Buhari removed the chief justice from office a few weeks before the election and postponed voting by a week at the last minute. Buhari won the election, but his challenger did not recognize the results.
The presidential elections held in Côte d'Ivoire and Guinea in October 2020 were also highly contested. In both cases, the primary issue was the controversy over another rule: presidential term limits. In the 1990s, most countries in West and Central Africa introduced presidential term limits into their constitutions, setting two consecutive terms as the maximum. Alassane Ouattara and Alpha Condé, the respective incumbents in Côte d'Ivoire and Guinea, ran for third terms in 2020. While civil society and the opposition in each country reacted with strong protests, their governments countered with bans and violence.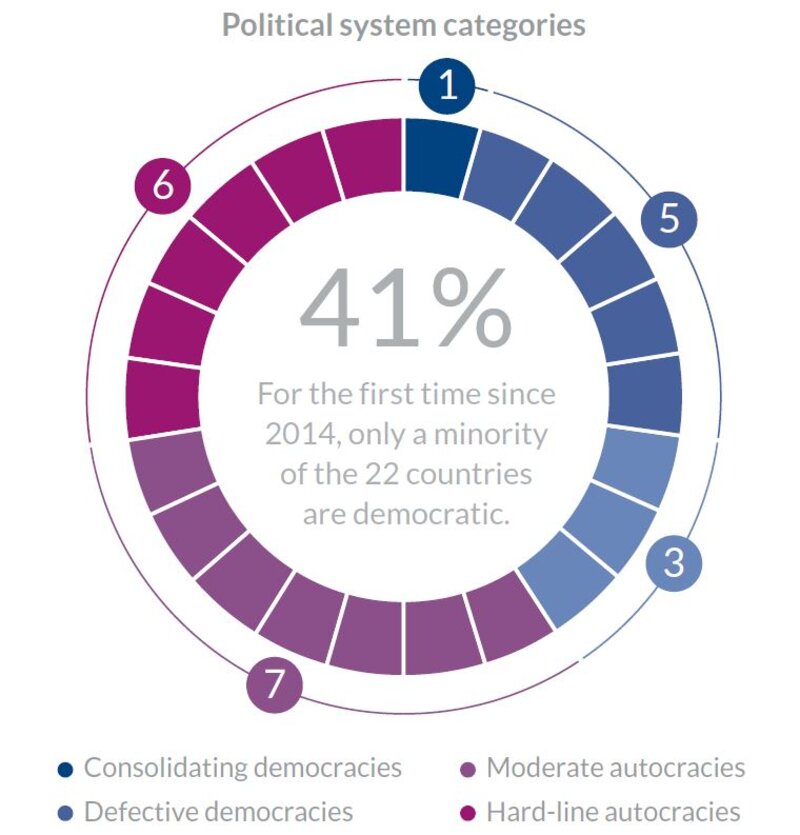 In contrasting developments, incumbents in Mauritania and Niger demonstrated respect for term limits for the first time in their respective countries. In Niger, Mahamadou Issoufou refrained from running for a third term in December 2020, and his designated successor, Mohamed Bazoum, won the election in February 2021. In Mauritania, Mohamed Ould Abdel Aziz had already conceded the field to his successor, Mohamed Ould Ghazouani, for the 2019 election, a remarkable development for a moderate autocracy in which the highest state office has traditionally been seized through a coup. However, Ghazouani has continued with the tradition in Mauritania that grants high-ranking military officers control over the presidency. Moreover, it remains to be seen whether Ghazouani will expose himself to the same risks as his predecessor, who is now in prison after being convicted of corruption in March 2021.
Economic transformation
Facing the pandemic without a social safety net
The pandemic has had a direct impact on all economies of the region, and its populations have largely had to make do without any social protection mechanisms. The oil-exporting countries, in particular, saw their GDP fall in 2020. In the case of the Republic of Congo, the economy contracted by 7.9 %. On the other hand, more diversified economies, such as those of Côte d'Ivoire and Ghana, were able to avoid the downward trend.
The fact that the aggregated BTI data shows no radical downturn in economic transformation across the region as a whole is not exactly comforting. After all, West and Central Africa records the weakest level of social and economic development among all seven BTI regions, and the state of economic transformation is very limited or rudimentary in 17 of the region's 22 countries.
Cushioning the devastating socioeconomic impact of the coronavirus crisis has therefore proved to be exceedingly difficult for most countries. Only the formally employed usually have access to health and pension insurance, but most people in these countries work in the informal sector. The International Labour Organization (ILO) estimates that more than 85% of the workforce of sub-Saharan Africa is employed informally. Thus, during the pandemic, the vast majority of people in the region have remained dependent for social protection on familial, neighborhood and religious networks as well as on services provided by non-governmental organizations.
The region's comparatively more advanced economies introduced more COVID-19-specific measures to cushion social hardship than did the region's weaker economies. For example, Côte d'Ivoire launched a COVID-19 Solidarity Fund in March 2020. Similar funds have also been established in Senegal and even in the less-developed Democratic Republic of Congo. Both countries specifically targeted international donors as well as their citizens living abroad for funds. Gambia and Guinea engaged in a direct cooperation with the United Nations Children's Fund (UNICEF) and the United Nations' World Food Programme (WFP), respectively, in order to provide food to highly vulnerable households. Several countries waived or deferred water and electricity bills for their citizens in March and April 2020. In many cases, however, the promises that were made exceeded the actual capacity to implement aid measures.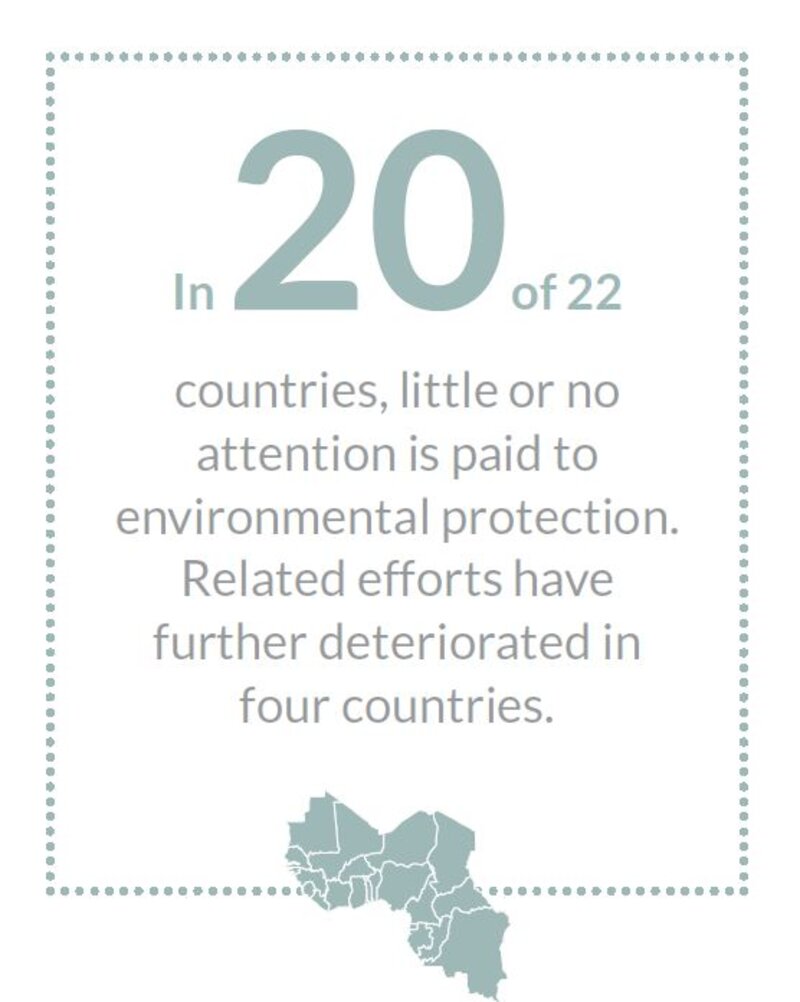 West and Central Africa faces massive environmental problems. Though the region hardly contributes to climate change, it has felt its impacts for a long time. The International Organization for Migration estimates that 28,000 people in the Central African Republic lost their homes to flooding in November 2019, and the national disaster management agency in Burkina Faso reports that over 100,000 people were affected by flooding and storms in 2020. At the same time, governments across the region do not prioritize environmental protection and efforts to mitigate the impacts of climate change. Existing legislation designed to protect the environment is rarely enforced. Over the last two years, little has changed in this regard.
Governance
Embracing power, not reform
In addition to structural challenges, such as poverty and patchy infrastructures, autocratic tendencies across the region also undermine good governance. Indeed, most policymaking efforts are severely compromised by the autocrats' desire to maintain power. Added to this are the burdens of violent conflict and terrorism, which seven countries in the region must grapple with: Burkina Faso, the Central African Republic, Chad, the Democratic Republic of Congo, Mali, Niger and Nigeria.
The Sahel region faces growing security problems. In Mali, the conflict with Islamist groups escalated once again. No longer restricted to the country's northern area, this conflict has reached the geographical center of the country. Local conflicts between various groups have also intensified and become entangled with the conflict between the Malian state and Islamist groups. Terrorist attacks and clashes between armed groups are estimated to have claimed more lives in 2020 than in any year since 2011, when the conflict began. To make matters worse, the conflicts in Mali are spilling over into neighboring countries. In Burkina Faso, in particular, terrorist attacks by Islamist groups have increased, as have local clashes among ethnic groups. Niger is ringed by three conflict-ridden countries – Libya, Mali and Nigeria – each of whose internal clashes are spilling over into Nigerien territory.
The escalating violence, however, is not matched by any increased capacity and, in some cases, political will on the part of these governments to contain the conflict. In a total of seven countries, conflict management has even deteriorated in recent years. For example, at the start of his term as president of Benin, Patrice Talon did help reduce tensions in his country. But then he risked escalating conflicts with the opposition by introducing changes to the electoral law and the constitution that favor his position. Violence, which in some cases led to deaths, erupted ahead of both the 2019 parliamentary elections and the 2021 presidential elections. On the way to his third term as president of Guinea, Alpha Condé proved even more willing to fan the flames of violence and polarization within society.
There were also setbacks in the quality of governance deriving from increasing failures to implement reforms. In the case of Gambia, political power plays brought all reform efforts to a halt. The government of President Adama Barrow, who replaced the autocrat Yahya Jammeh in 2017, had promised far-reaching democratic reforms and a new constitution. But the draft constitution, which had been drawn up with popular input and envisioned both a strengthening of the legislature vis-à-vis the executive as well as presidential term limits, was surprisingly blocked in 2020 by the president's supporters. Since then, the constitutional reform process has stalled.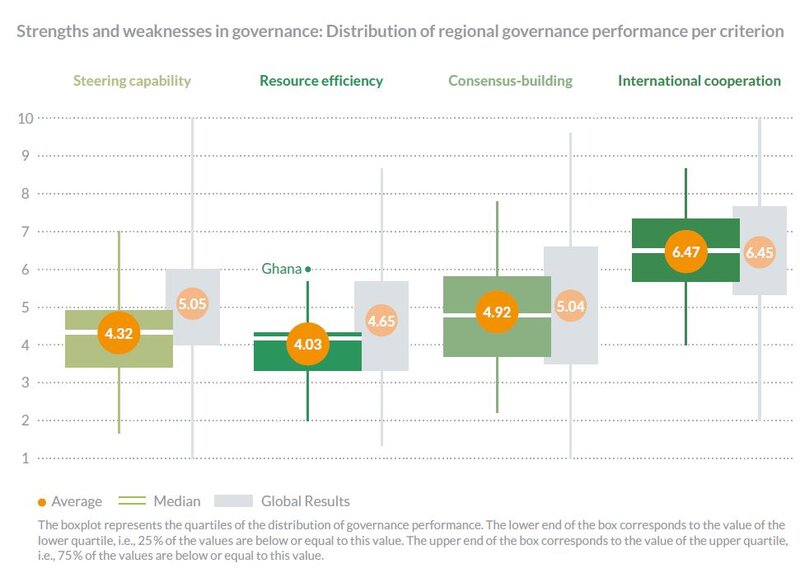 Widespread corruption is another obstacle to good governance in West and Central Africa. In 2019 and 2020, only Sierra Leone demonstrated any progress whatsoever in improving integrity mechanisms. In contrast, anti-corruption efforts faltered in seven countries. For example, Liberian President George Weah has systematically weakened the country's institutions tasked with battling corruption. And even though a number of corruption scandals have been exposed in Gabon, they are usually exploited to divert attention from the Bongo family's misappropriation of state funds and efforts to consolidate power.
Outlook
Three challenges ahead
How the countries of West and Central Africa continue to develop will be determined above all by how they deal with three major challenges. The first is the rift between the younger generation and the aging political elites. Whereas the median age in the region is only 18.8 years (according to UN figures from 2020), the average age of presidents is 66. Young people across the region feel politically disenfranchised, and they face dismal economic prospects. The future of political leadership will therefore depend on the extent to which these countries are able to facilitate a generational shift in which young people are granted some power to help shape the future. Should this project fail, there is a risk of instability. But instability can also open up opportunities to deepen democratization processes.
The second challenge involves containing violence and terror in the Sahel region as well as launching a sustainable peace process in Mali and its neighboring countries. The fact that France wants to end Operation Barkhane and scale back its military involvement in the Sahel will lead to a reconfiguration of international and regional engagement. This shuffling of the cards likewise represents both a threat and an opportunity.
The third challenge is associated with managing the consequences of the COVID-19 pandemic. Securing the supply of vaccines, organizing their distribution and gaining public trust will be essential in these efforts. According to the UN Development Programme, only 1.36 % of the population in low-income countries had been vaccinated by August 2021 – a fact that highlights the stark global inequities in accessing vaccines. At the same time, aid and foreign direct investment are expected to decline in the coming years, as OECD countries will have to compensate for their high expenditure levels during the pandemic. Should this happen, the region will have even fewer resources to use in its efforts to solve existing problems.